We are now going into the fifth month after first releasing Romililly.  We were, as any new business owner would be, very curious how our first release would turn out; maybe even a little worried???  We knew we have a good wine, and two competent owners, but this is still a new endeavor, and a first business for both of us.  Those two factors don't always equal a happy ending (although, it should, if you ask me (and you did)). 
One can only wonder how this shaky economy will effect ones business.  People seem to be a bit more tentative when it comes to spending.  But, If you believe it, after it is was all said and done..... We have done pretty well.  We are very excited at the outcome.  We are down to the last 20 cases.  All of our hard work is paying off. 
You see, Aaron and I only get to conduct business a couple days of week.  This is because we both work full time to support ourselves while the business is in its infancy. We couldn't be in a better situation since the '08 harvest is ramping up as I type this. That means sixty hour work weeks, and even less time to work on Romililly.  It's already hard enough to get out to sell wine, let alone with a work week like that!....
Here's to a great harvest.....wish us luck....
On a personal note: I am proud to say I will be father to a baby boy in January.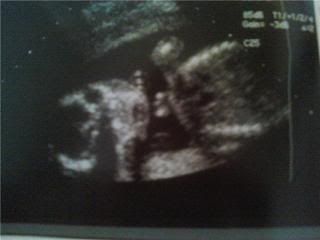 The bottom left is his little head, face forward.